2022 bump in Social Security payments
Starting in January, seniors will see their Social Security monthly benefits increase by 5.9% due to a cost-of-living adjustment (COLA). The exact dollar amount can already be previewed in recipients' My Social Security portal.
Applied automatically, COLAs are not new but usually they are not so noticeable. First of all, the average percentage increase has been just 1-2% across the past dozen years or so. The 2022 COLA is large, by comparison. For example, someone receiving $2,000/month in benefits will see an additional $118/month.
Depending on your overall income, up to 85% of your SS benefits may be taxable. Continuing our hypothetical example, if 85% of the person's SS is taxable, then about $100 of the increase is taxable.
The second reason that we don't usually notice COLAs is that any increase could be offset by a change in a person's Medicare Part B premium. For most people, that premium is automatically deducted from the Social Security benefit every month.
That adjustment to Part B premiums (and to Part D for some) is an "income-related monthly adjustment amount," nicknamed IRMAA. While IRMAA certainly does reflect income, it's a backward glance to income 2 years ago. So, in 2021, IRMAAs are (generally) based on 2019 tax information. If your income has dropped recently, you can request a reduction in your IRMAA level to lower the monthly premium.
Even though beneficiaries receive notice of changes (tracked in your My Social Security portal), the actual impact of a COLA on monthly benefits may be overlooked. The 2021 COLA is the first in years to be noticeable.
Graphical history of Social Security COLAs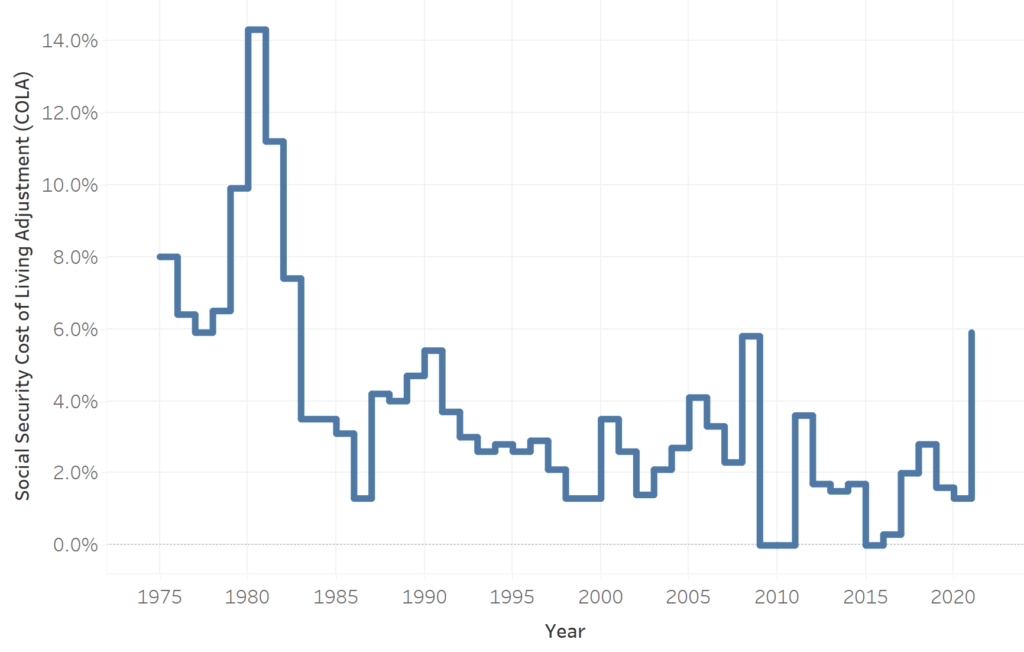 The upcoming 5.9% increase is newsworthy because it's the biggest COLA in the past 40 years. As the chart shows, the most recent COLAs have been under 4% in most years, with just a few COLAS nearing 6%. But in the 1970s and 1980s, seniors saw COLAs ranging from 6% to 14%. In those years, the label "greedy geezers" emerged but the large COLAs were not about greediness—the COLAs simply reflected societal economics, specifically inflation.
The 2021 bump is because of inflation. Is it predictive?
Inflation is relatively high right now. Some of the common reasons are identified as lower inflation during 2020, we're catching up in 2021, and supply chain issues worldwide. There is much debate over the future of inflation – are we heading into a repeat of the 1970s with historically high inflation? Or will inflation moderate to a more sustainable level?
Abacus Financial Planning does not try to predict exact inflation rates. We instead focus on building a financial plan that will support goals in a range of possible scenarios.
The information on this site is not intended as tax, accounting or legal advice, as an offer or solicitation of an offer to buy or sell, or as an endorsement of any company, security, fund, or other securities or non-securities offering. The information on this site should not be relied upon for purposes of transacting in securities or other investment vehicles.
The information on this site is provided "AS IS" and without warranties of any kind either express or implied. To the fullest extent permissible pursuant to applicable laws, Big Red Abacus, LLC dba Abacus Financial Planning disclaims all warranties, express or implied, including, but not limited to: implied warranties of merchantability, non-infringement, and suitability for a particular purpose.
AFP does not warrant that the information will be free from error. Your use of the information is at your sole risk. Under no circumstances shall AFP be liable for any direct, indirect, special or consequential damages that result from the use of, or the inability to use, the information provided on this site, even if AFP or an AFP authorized representative has been advised of the possibility of such damages. Information contained on this site should not be considered a solicitation to buy, an offer to sell, or a recommendation of any security in any jurisdiction where such offer, solicitation, or recommendation would be unlawful or unauthorized.
The information being provided is strictly as a courtesy/convenience. When you link to any of the websites provided here, you are leaving this website. We make no representation as to the completeness or accuracy of information provided at these websites. Abacus Financial Planning is not liable for any direct or indirect technical or system issues or any consequences arising out of your access to or your use of third-party technology, websites, information and programs made available through this website. When you access one of these websites, you are leaving our website and assume total responsibility and risk for use of the websites you are visiting. Abacus Financial Planning does not make any representations or warranties as to the accuracy, timeliness, suitability, completeness, or relevance of any information prepared by any unaffiliated third party, whether linked to Abacus Financial Planning's website or incorporated herein, and takes no responsibility thereof.