Crafting a DIY Paycheck from investments and savings is a means to cover the gap between income (like Social Security) and expenses in retirement. We built a framework, or flowchart, for thinking about how money flows from your investments to your checking account to pay for boring bills and exciting travel. The checking account is the endpoint for outflows, which we will discuss first.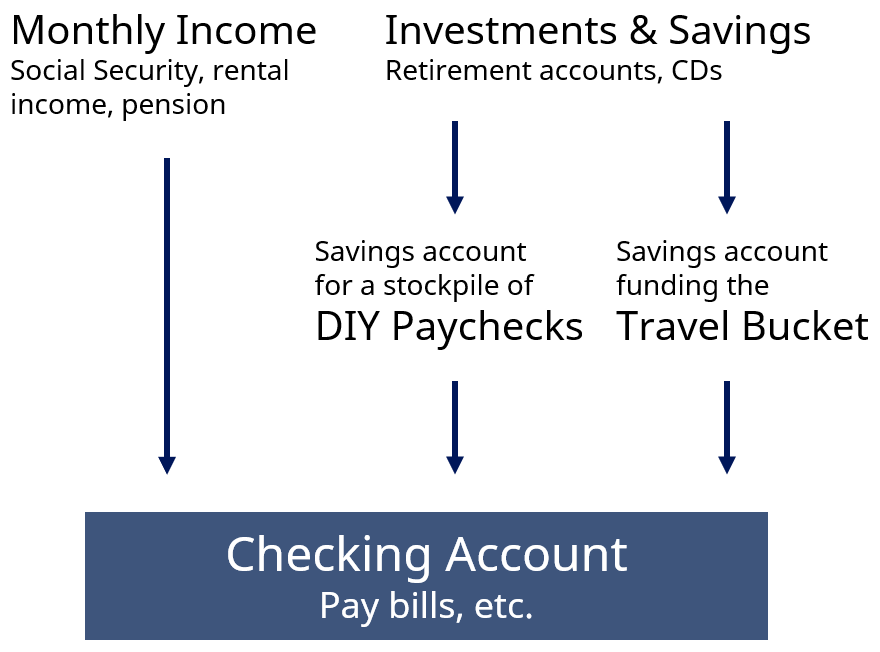 Checking account and Expenses
Paying expenses from a checking account is efficient, with options for paying bills electronically as well as with paper checks. Think about expenses in 2 buckets: day-to day and big ticket.
Day-to-day expenses: Housing costs, utilities, transportation, and "food and fritter." Think about these expenses in a weekly or monthly context.
Big ticket expenses: For many people, this is travel, and it could also be a hobby or spending related to friends, family, gifts, or charities. Think about these expenses over an entire year.
What about other required expenses? You are right – not all expenses are captured in these categories, especially taxes and healthcare. These other expenses may be handled through automatic deductions, separate accounts, or designated splits from RMDs.
Income
The framework identifies income coming from all sources. The common sources are Social Security and a pension. Other sources can include rental properties, royalties, property sales, and inheritances. For many people, recurring income may not be enough to cover all expenses. The gap between recurring income and day-to-day expenses can be filled with the DIY Paycheck.
DIY Paycheck
The DIY Paycheck flows from a separate savings account to your checking account. This separate savings account typically has a cushion of 1-3 years' worth of DIY Paychecks. The DIY Paycheck savings account will be replenished periodically from investment accounts.
Travel bucket
A savings account can be used to cover fun and big-ticket expenses. Though we refer to it as a travel bucket, it could also be a hobby bucket or "bucket-list bucket." The amount in this account is determined by your goals and what your overall financial plan can support. Like the DIY Paycheck, it is replenished periodically from investment accounts.
When, or just before, you book a vacation or buy hobby equipment, transfer money from the savings account to your checking account to pay the bill.
Customized for you
While the overall flow of this framework and the DIY Paycheck can fit a wide range of circumstances, the detailed implementation can vary significantly by person and may change over time. For example, someone who retires before taking Social Security may need a larger DIY Paycheck initially, which can be adjusted down when Social Security payments begin.
In our next blog post, we will talk about some of the ways implementation may vary for different people in different situations.
The information on this site is not intended as tax, accounting or legal advice, as an offer or solicitation of an offer to buy or sell, or as an endorsement of any company, security, fund, or other securities or non-securities offering. The information on this site should not be relied upon for purposes of transacting in securities or other investment vehicles.
The information on this site is provided "AS IS" and without warranties of any kind either express or implied. To the fullest extent permissible pursuant to applicable laws, Big Red Abacus, LLC dba Abacus Financial Planning disclaims all warranties, express or implied, including, but not limited to: implied warranties of merchantability, non-infringement, and suitability for a particular purpose.
AFP does not warrant that the information will be free from error. Your use of the information is at your sole risk. Under no circumstances shall AFP be liable for any direct, indirect, special or consequential damages that result from the use of, or the inability to use, the information provided on this site, even if AFP or an AFP authorized representative has been advised of the possibility of such damages. Information contained on this site should not be considered a solicitation to buy, an offer to sell, or a recommendation of any security in any jurisdiction where such offer, solicitation, or recommendation would be unlawful or unauthorized.