See our previous blog posts about Shifting from Saving to a DIY Paycheck and Build a DIY Paycheck from Investments.
The idea behind a DIY Paycheck is straightforward: use your investments to build an income stream. We will walk through some common questions and variations of implementing a DIY Paycheck.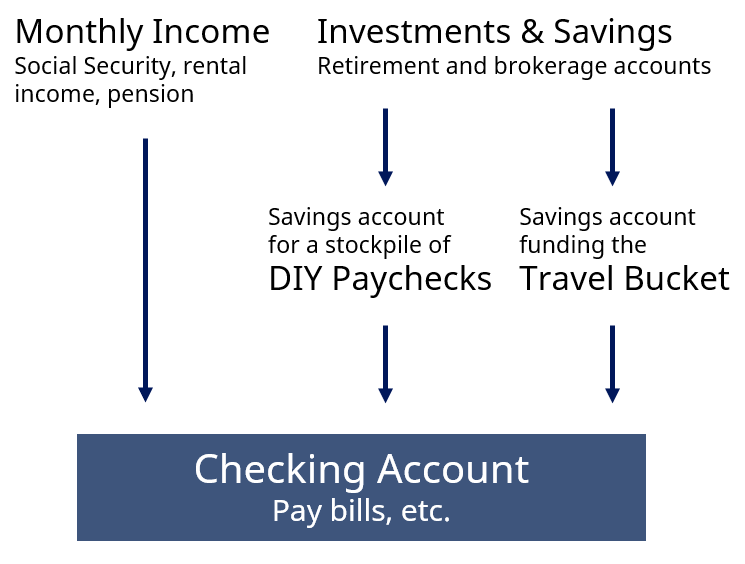 1. Checking account and expenses
What about expenses that aren't day-to-day or for travel/fun/hobbies?
One strategy is to set up a 3rd (or 4th) bucket for periodic expenses handled on a monthly, quarterly, or annual timetable. Periodic payments for tuition, car insurance, and house insurance can be paid through automatic transfers, perhaps from a savings account to the checking account or even directly to the recipient.
What about paying taxes?
There may be several options for paying income tax. You can elect to have taxes withheld from Social Security benefits, have taxes withheld when taking an IRA distribution (such as a Required Minimum Distribution), or set aside money for taxes from an investment sale.
What about healthcare expenses?
Like taxes, there may be several options for paying healthcare expenses. It may be an option to have premiums deducted from Social Security benefits or a pension payment. Some people plan for healthcare expenses as part of a monthly budget, so this could be factored into a DIY Paycheck. Another option is to set aside a separate account to cover healthcare expenses.
My partner and I keep our expenses separate. What can we do if we don't share a checking account?
Do what works for you! You can split a DIY Paycheck into 2 separate accounts to continue your pattern of handling expenses. Similarly, you can have joint or separate travel/fun/hobby buckets.
2. DIY Paycheck
Why set up a savings account? Why not a money market account?
There are many options for the specific type of account. The money could be part of an investment account, or some of the money could be in CDs or government bonds. While the DIY Paycheck could flow from numerous sources, a dedicated account can simplify the DIY Paycheck.
How much can I spend as a DIY Paycheck and not run out of money?
There are no guarantees and no universal answers. We can look to historical performance in the stock market, which of course is not a guarantee of future performance. The early research in this area suggested a 4% withdrawal rate, though now some advocate for a higher initial withdrawal rate and some advocate for a lower rate. Choosing the initial withdrawal rate is crucial to setting up a successful path in retirement. With an annual review of finances, though, the DIY Paycheck can be adjusted.
3 years of cash is a lot. Why so much? Or, 3 years of cash doesn't seem like enough for a bear market. Is it enough?
A starting point is to consider holding about 3 years of cash. This gives a buffer of time for when you need to pull money from the stock market in case of a down market. Some people prefer to keep more money invested and may hold only 1 year of cash. Some people may feel more concerned about a bear market and hold 5 years of cash.
Consider the strong opinions of two investors, who just self-funded savings accounts to send themselves DIY Paychecks every month.
A cautious investor might say "I have parked 3 years' worth of DIY Paychecks to the savings account and set up automatic transfer of $2,000 per month to my checking account. I'm now going to ignore the savings account and enjoy knowing that I have a regular "gap paycheck" coming in. Peace of mind for me."
A more aggressive investor might say "I would never set aside $72,000 to just dribble into my checking account, little by little. But I like the DIY Paycheck idea. So, I'm putting 1 year's worth of DIY Paychecks into the savings account for a once-a-month transfer to my checking account. I'm keeping the other $48,000 in investments to keep growing. This gives me peace of mind."
How often should the DIY Paycheck transfer to the checking account?
This is a personal preference. Some people like to match a previous paycheck schedule (i.e., twice a month), and some people like to time the transfers around predictable expenses, like utility bills and car payments. Retirees who collect Social Security might time the DIY Paycheck to arrive in between Social Security deposits.
How often should the DIY Paycheck account be replenished?
Find a schedule that works for you, possibly replenishing the account once a year.
How do I know which accounts to pull from?
The answer will vary by person and as tax laws change. The decision fits into a larger financial plan.
3. Travel bucket
How often is it replenished?
Like the DIY Paycheck savings account, the travel account can be replenished on a schedule that works for you, possibly annually.
Because of COVID we didn't travel. What do we do if there is another disruption and we don't spend the money one year?
Spend it elsewhere. During past lockdowns, this could have been tipping more generously for takeout or delivery. Or, it might have been providing financial support for a family member impacted by the pandemic. You can also let the money sit and roll over to the next year so you're ready for a bigger vacation.
4. Income
What if my income covers all of my basic expenses and I don't need a DIY Paycheck?
Lucky you! You can focus on using a travel bucket for other expenses.
In retirement, how much of my income should I be saving each month?
It can be hard to switch from the saving mindset to the withdrawing mindset. Take a flexible approach to saving during retirement: review your plan once or twice a year and adjust the amount as needed.
5. Investments
What do I do with my investments?
Abacus Financial Planning's investment philosophy is to take a straightforward approach: build a cost-aware and tax-aware diversified portfolio that is matched to your risk capacity, tolerance, and needs.
How do I know what to sell or withdraw to keep taxes low?
This will be unique to each person and their specific investments. Some strategies for lowering taxes include tax-loss harvesting, bunching income or deductions, and Roth conversions.
The information on this site is not intended as tax, accounting or legal advice, as an offer or solicitation of an offer to buy or sell, or as an endorsement of any company, security, fund, or other securities or non-securities offering. The information on this site should not be relied upon for purposes of transacting in securities or other investment vehicles.
The information on this site is provided "AS IS" and without warranties of any kind either express or implied. To the fullest extent permissible pursuant to applicable laws, Big Red Abacus, LLC dba Abacus Financial Planning disclaims all warranties, express or implied, including, but not limited to: implied warranties of merchantability, non-infringement, and suitability for a particular purpose.
AFP does not warrant that the information will be free from error. Your use of the information is at your sole risk. Under no circumstances shall AFP be liable for any direct, indirect, special or consequential damages that result from the use of, or the inability to use, the information provided on this site, even if AFP or an AFP authorized representative has been advised of the possibility of such damages. Information contained on this site should not be considered a solicitation to buy, an offer to sell, or a recommendation of any security in any jurisdiction where such offer, solicitation, or recommendation would be unlawful or unauthorized.
The information being provided is strictly as a courtesy/convenience. When you link to any of the websites provided here, you are leaving this website. We make no representation as to the completeness or accuracy of information provided at these websites. Abacus Financial Planning is not liable for any direct or indirect technical or system issues or any consequences arising out of your access to or your use of third-party technology, websites, information and programs made available through this website. When you access one of these websites, you are leaving our website and assume total responsibility and risk for use of the websites you are visiting. Abacus Financial Planning does not make any representations or warranties as to the accuracy, timeliness, suitability, completeness, or relevance of any information prepared by any unaffiliated third party, whether linked to Abacus Financial Planning's website or incorporated herein, and takes no responsibility thereof.